---
Knitted blankets made of cotton, bamboo and merino wool
Blankets, plaids, coverlets and baby blankets are new interesting products that we can knit on our industrial knitting machines. Light baby blankets for spring and summer are recently gaining more and more popularity. But those types of blankets are not the only one. We also produced thick plaids for autumn and winter or even very big coverlets suitable for big beds. In this post I would like to describe what are the technical possibilities on our knitting machines and what type of yarns we use for blanket production.
Design possibilities (patterns of knitted blankets)
From design point of view we can split blankets and plaids into those with graphics (jacquard or intarsia) or blankets with knitted structures.
Cotton blankets with own graphic pattern
It is a type of blanket that has specific picture knitted within the fabric. The best results are obtained when using 2 colours, because on the backside we get a negative of front side. 2 colours jacquard is the most popular technique used for baby blankets when we knit pictures and images.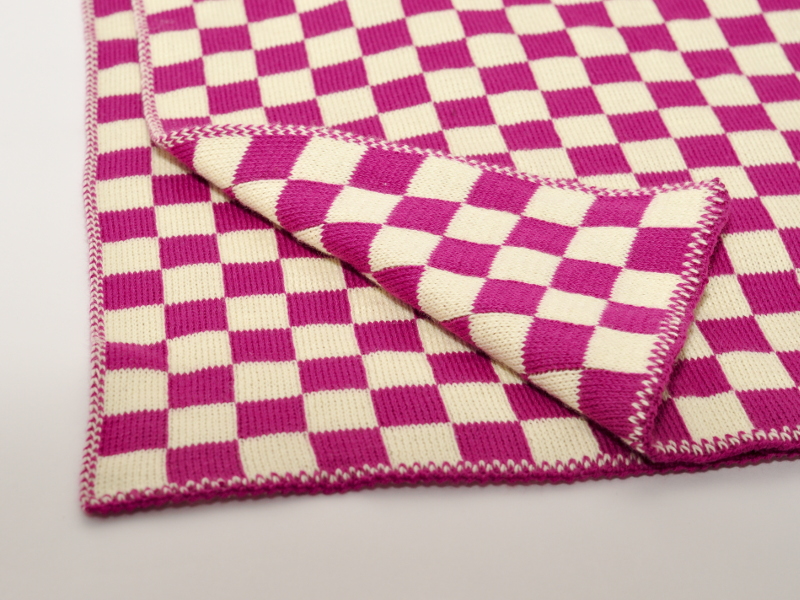 Adding more colour cause some complications, because additional colour have to be knitted on the back side of blanket. Because of that negative pattern on the backside is getting irregular and there is sort of "mess" with different colours. As a result blanker has visible right side, and left side that is not so nice and rather irregular.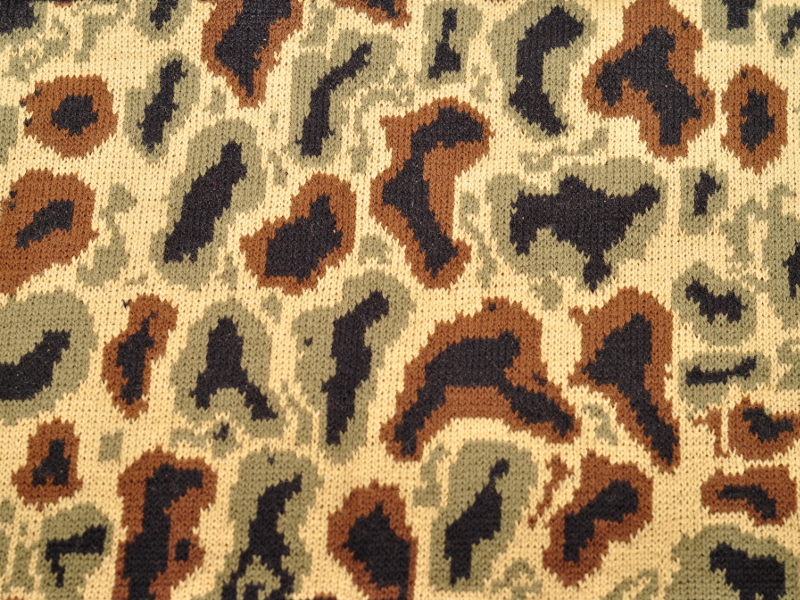 In some cases we can solve this problem with intarsia technique. Within intarsia knitted blanket on the backside the same colour is visible as on the front side (other colours are not knitted on the backside). Unfortunately this technique has its limitations and usually pattern has to be prepared specially for intarsia and adjusted to technological possibilities of particular knitting machine.
Blankets with structures
Knitted structures are mainly obtained by combination of right and wrong stitches and by transferring stitches to the adjacent stitches. The most popular knitting structures are: french, rice, cables, aran, pointelle. For cotton blankets we usually make a regular pattern that is repeated among whole fabric. However we can use specific structure only on some fragments or connect various structures. It's worth remembering that various shapes and images (checkered, circles or hearts) might be created not only by combination of 2 different yarn colours but also by combining different structures. We can make a heart filled with right stitches and make background with left stitches. An outline of heart can be also done by proper arrangement of pointelles. In the most creative and original structures we can even get a shape of owl or spider what is presented below on photos.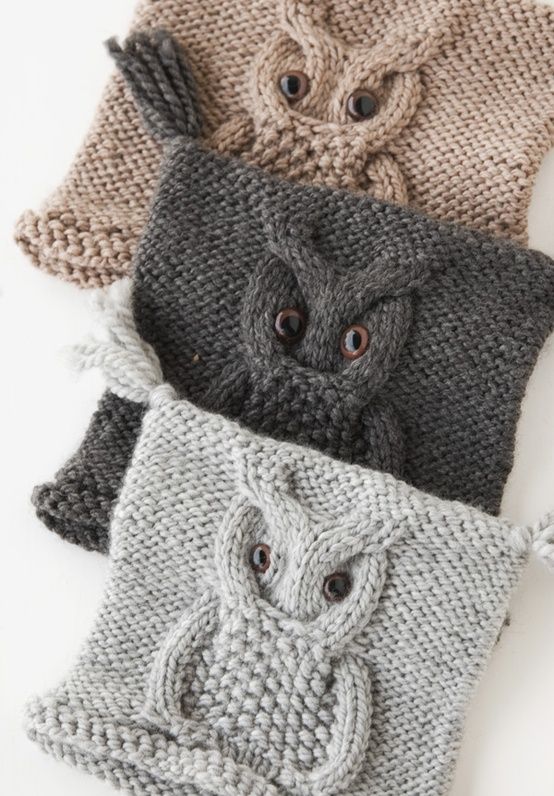 It all depends on creativity of designer and knowledge about knitting. Below some additional examples of knitted structures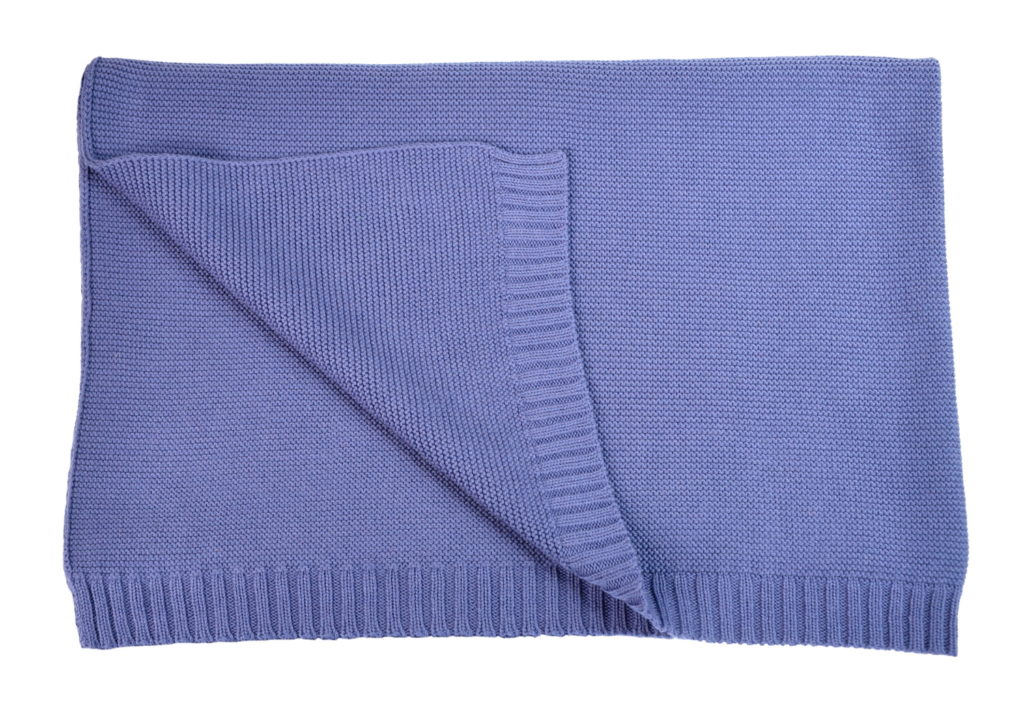 Knitting machine gauge
For both jacquard and structural knitted blankets we can use different machines with various needle sizes. The size of needles influence the size of single stitch and fabric thickness. Bigger needles mean thicker fabric but also smaller resolution for graphics (in the same area we have less stitches to use as they are bigger). I try to translate into English my post about machine gauges but right now you can go to my Polish post: Uiglenie maszyny dziewiarskiej and try to use google translate 🙂 I think it is worth trying to know more about knitting techniques and distinguish how gauge 3 differ from gauge 12 and how does it influence design process of knitted blankets, plaids and coverlets.
We produce baby and newborn blankets on small needles, and thick winter plaids on big needles so they are cosy and warm. Below you can see difference between machine 3″ and machine 7″
Material (yarns) used for prodution of knitte blankets
Cotton
The most popular yarn we use for blankets and coverlets is cotton. We use certified cotton with Oeko Tex certificate. It 100% natural fibre, that is very convenient in daily usage. Cotton blankets can be machine washed and there is also no problem with tumble dry. The other advantage is big availability of colours.
Bamboo
The second most popular yarn used for knitted baby blankets is bamboo. It is also a plant yarn, but a little lighter and with small gloss. Bamboo blanket has a good thermoregulatory properties, what is important during summer season and hot weather (baby is not sweating under bamboo blanket and its temperature is even 2-3 Celsius degrees lower than in than the environment. That is why bamboo blanket is perfect for summer season.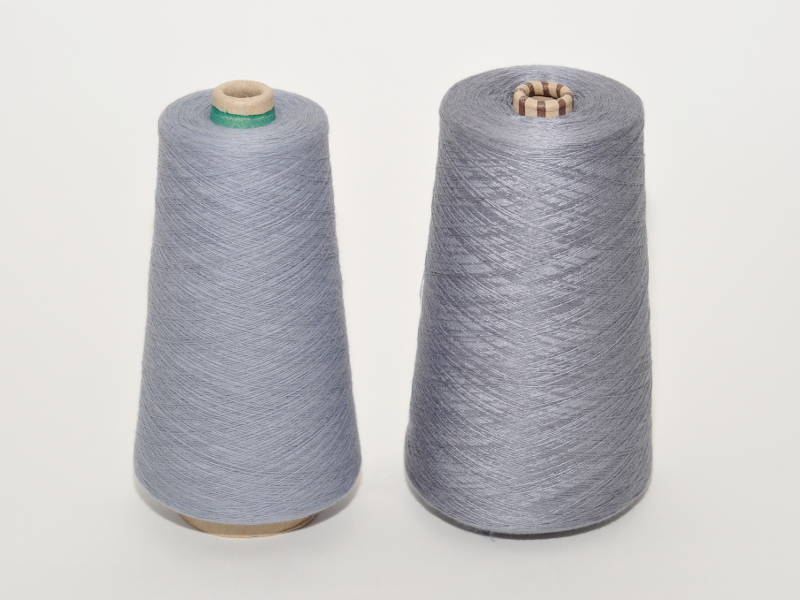 Both cotton and bamboo blankets are very soft in touch and very friendly for baby fragile skin. Oeko Tex certificate also confirms safety of both materials. It is also worth remembering that both material are obtained from plant, which makes them biodegradable end environmentally friendly.
Other yarns used for production of knitted blankets and plaids
For special orders and customers needs we also manufacture blankets made of merino wool, organic cotton with GOTS certificate and yarns produced from recycled materials. Here you can read more about unique properties of merino wool. We import those yarns from best Italian spinning companies and those products are more expensive but they are also of premium quality. For very demanding customers we can also use alpaca or cashmere. Those yarns are used in production of headwear and they can also be applied to knitted blankets, plaids and coverlets.
Manufacturer of baby blankets, knitted plaid and coverlets.
We invite you to contact our company if you are interested in production of knitted blanket or even creation of your own collection. We have styles already developed by us, but we also work according customers individual projects and needs.