---
Merino wool beanies and headwear
In this post I would like to introduce you to a very interesting and premium yarn, which is merino wool. This type of wool belongs to the group of exclusive yarns and its properties cause that it is used not only in the fashion segment assortment, but also in sports wear.
Merino wool
The raw wool from which the merino yarn is made comes from the Merino sheep fleece. The most abundant population of these sheep species occurs in Australia, but they are bred also in other countries.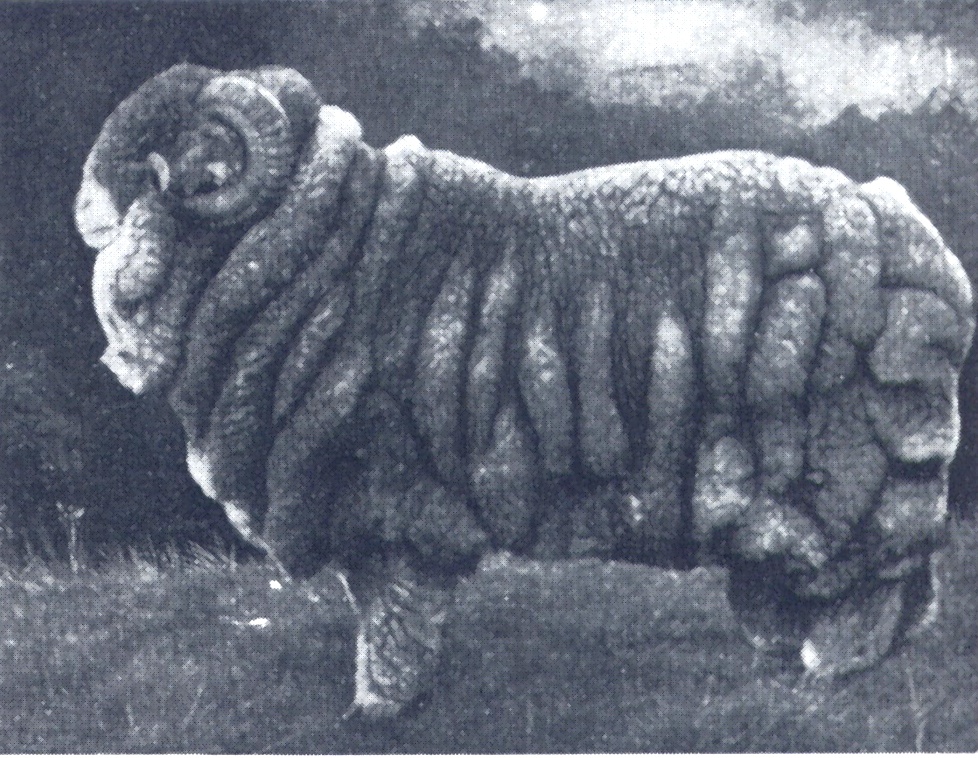 Sheep male from merino breed. The photo shows "champion" with a very rich fleece.
---
Merino wool is considered one of the best and softest sort of wool in the world (as a result this wool is much nicer in hand feel and does not scratch like ordinary wool). This is due to very thin hair. Standard types of merino yarn have a hair thickness in the range of 18.6 – 24.5 µm, and extra fine or ultra fine versions even 11.5-18.5 24.5 µm. The smaller the µm value (micrometers), the thinner the hair, and the softer and more pleasant the final product will be.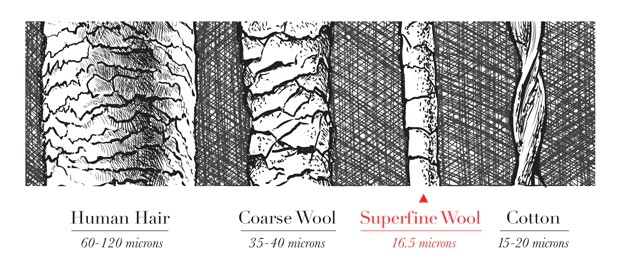 Comparison of the structure and thickness of human hair, coarse wool, superfine wool and cotton.
---
In addition to the soft touch, merino wool has a number of other advantages:
wicks moisture away,
high UV protection,
no pilling tendency,
does not crease and does not deform,
is not allergic,
does not electrify hair,
thermoregulation: in winter it warms up, and in summer it cools down,
absorbs an unpleasant odor and has antibacterial properties,
is a natural resource, so also biodegradable and renewable.

---

These factors make merino wool not only ideal for fashionable clothes, but it is very often used for the production of sports clothes (thin, but with very good thermal properties and sweat absorbing).

Weaknesses of merino wool

Despite the many advantages, I can think of 2 disadvantages of merino wool: high price and care requirements.

As I mentioned at the beginning, merino wool yarn is classified as premium quality yarn. Its price is several times higher than commonly used acrylic and cotton, which will certainly impact (increase) the price of the final product. Fortunately, together with the technological progress, modern knitting machines can produce fully-fashioned products and fabrics (i.e. those that have proper shape obtained already during knitting on machine – without cutting). This reduces the need for cutting and sewing to a minimum, thanks to which material losses are minimal. As a result, the waste resulting from cutting is reduced, which is very important for very expensive yarns (we obtain the same shape with smaller usage of yarn). I will write a separate post one day about the fully fashion technique.

The second issue is care requirements. Most merino wools are recommended to be hand washed. When washing in a washing machine, they can become felt, so they should be washed by hand in lukewarm water without squeezing or wringing them too hard. Fortunately, total easy care version of merino wool is very helpful. It is a kind of wool that can be washed in washing machine. It is specially processes during production and spinning process, so it can be machine washed. Of course, I mean a delicate washing program, preferably the one dedicated to wool. The price of such wool is a little more expensive, but it is an ideal solution if we want to have a less demanding (in terms of care) product.

The most popular merino yarns used for making hats and caps.

In our company, we produce beanies from 4 types of high quality Italian yarns, which contain merino wool. This is their composition:


merino wool / acrylic (50/50%)
100% merino extra fine
100% merino extra fine, total easy care (wool is machine washable)
Rewoolife (50% merino, 50% polyester recycled from plastic bottles) – this is ecological yarn for environment aware customers. I will describe it in another post in which I want to talk about organic and ecological yarns made from recycled materials.

---

Merino wool headwear producer

If you are looking for a knitting manufacturer that produces merino wool clothes, please contact us. We have experience not only in merino wool headwear, but also in scarves, snoods and baby blankets made of merino wool.