---
Spring beanies (made of cotton)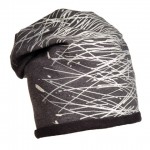 As the winter is over and spring has already begun it is good to consider appropriate headwear. It is however too warm for thick beanies made of wool and still too cold for baseball caps. The good solution will be spring beanies made of cotton or polyester. They are perfect for transitional season. Feel free to review the available models of spring beanies!
Cotton beanie with elastane admixture
The most common model is plain, single colour beanie with 4 or 6 seams on the top. Such headwear is made of cotton cloth which contains elastane. As a result this fabric is flexible and stretches well on head. However plain, single colour beanie doesn't seem to be the most interesting product, so the question about other interesting designs occurs. We have many possibilities:
Labels, leather patches and embroideries
Similar to traditional knitting beanies we can add here various labels, leather patches or embroideries. When we consider embroideries we must be careful so the left (ugly) side won't scratch the forehead. Knitted beanies usually consist of 2 layers and this ugly part of embroidery is hidden between them. Embroidery company might also add special cloth on the left side in order to increase comfort. Below you can find some examples (beanies with embroideries):
---
Decoration
By decorations I mean stuff like: gems, metal decorations, cut pieces of leather and others. In most cases they are glued to beanie or laser cut and then embroidered (leather pieces for instance). Elegant decorations are usually used for fashionable products for women whereas those more colourful and flashy (like shiny gems) are intended for girls. Some examples below:
---
Screen printing
It is the same technique as used in t-shirts. We apply printing on fabric and then we sew it into beanie shape. Such printing might be placed on whole cap or some small fragments. Usually single colour printing is applied but it is not a rule. Check this caps:
---
Polyester beanies (with sublimation printing)
Sublimation printing is very interesting technique which allows printing directly from computer. Thanks to this we can get interesting textures from our own photos or graphic files without any problem. The only requirement is to use 100% polyester fabric. Such cloth has 2 sides: plain (shiny) and fluffy (something like polar or fleece). We can apply printing on both sides. On plain side printing will be more glossy and on fluffy more mat. Below you will find beanies with sublimation made of our holiday pictures: stones (sublimation on plain side) and cactus (sublimation on fleece side):
---
If you are interested in production of spring beanies please let me know. In our company we handle orders even from 50 pcs.