---
Shapes and styles of beanies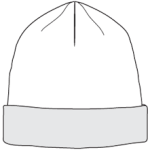 In this post I would like to describe various shapes, styles and cuts that knitting beanie might have. In flat knitting technology we usually get flat, rectangular knitting cloth which is than sew into a final shape. Today I will present the most popular beanie styles that we work with in our company.
Beanie pulled with string
This is the most basic type. On the back of beanie there is a seam but top of beanie is seamless. To get such effect hard string mounted inside cloth is pulled and form a shape of beanie. It fits head very closely (unless we make it longer – than we get version that fall down on the top). This model is fast to sew so it is recommended during tight deadlines. The other advantage is that it does not collide with jacquard graphics. If whole knitting cloth has some graphics or patterns such string pull does not deform them. There are little wrinkles on the top but they do not deform graphics so much. With seams on the top our pattern will be cut by seams.
---
Beanie with 5 or 6 seams
This type has 5 or 6 seams on the top. It adhere very good to head but we must be careful about big graphics. If we decide for jacquard or printing we should put them under seams. Otherwise seams will cut graphics and deform it. Same as in pulled beanie: if we make this model longer we get a shape that fall down on the top part.
---
Beanie with 4 seams (carhart style)
This model is very popular among streetwear brands. It has 4 seams but these on the front and back are a little shorter than this on sides. As a result this model does not fit head very close and we get the effect of stand-off semicircle. This effect is obtained by purpose as a part of urban and street style design.
---
Beanies with pompom and fold
Various beanie styles might have a fold on the forehead. Usually there is some branding put on fold. It might be a woven tag, leather patch, embroidery or even jacquard. Sometimes additional branding is hidden beneath fold. As a result beanie might be worn unfolded as well. It is longer this way but this second branding or graphic become visible. To sum up such beanie might be worn in two different ways: short & folded or long & unfolded.
The other decoration type is pompom. In most cases they are added to folded beanies with 6 seams but it can be applied to other types as well. Such shape matches closely to head and as a result pompom is in the center part on the top and it does not fall down or stand out. Pompon might also be added to models with 5 seams or those pulled with string. You can also find some beanies with 4 seams and pompom. It is rather rare but we used to produce such models for our Clients 🙂
Beanies with ear flaps
This is very popular model among all age groups. For adults and youth is usually has fleece/polar lining and for children double knitting cloth is usually used. There might be 100% cotton yarn used inside as it is softer for kids. Patches and emblems are usually attached on ear flaps and on the edge strings or braids are mounted very often. When we attached pompoms there are often 3 of them (1 on the top, and 2 attached to strings that are mounted to ears).
---
The above presented shapes and styles of Beanie are the most popular ones. Of course there are many other possibilities like: fully fashion, 2 sides beanies, knitted balaclavas, knitted caps with peak and many others. I will describe some of this untypical shapes in the future.